John T. Mahan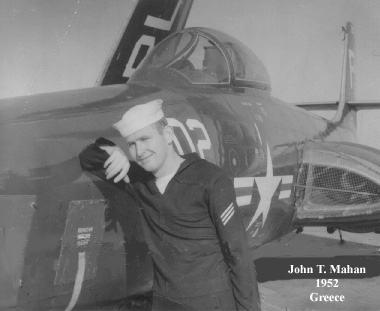 Here is a picture of my friend JohnT from his navy days. He is proud of this picture cause it proves he was once a lean, mean fighting machine. I first met JohnT at the Clinton Central Park AA meeting along with his sponsor Ernie from Hudson. JohnT is something of a legend in AA particularly in Massachusetts where he headed the MDC's Employee Assistance substance abuse unit for many years. John has traveled far and wide for AA including countless prisons and foreign countries , and the Vatican. Over the last 17 years that I have known him, John has pointed out all the important AA anniversaries to me, in between helping lots and lots of people come to grip with their alcohol problem and pointing the way to recovery.
Every spring , as John celebrates his anniversary, a couple hundred of his closest friends converge on our meeting to help John celebrate another year of sobriety. In great demand as an anniversary speaker, John is always quick to illuminate the crowd about the sixth major food group , baked beans. A couple years ago his anniversary cake was decorated by my wife Dianne, as a gallon size can of Boston Baked Beans and he loved it. John is also active with the American Legion and the Elks , and St Johns church. His favorite pastime is chasing collegiate sports, especially baseball and he usually can be seen wearing the cap of a local team.
John T. celebrates 40 years of sobriety at Clinton Central Park meeting 9-Aug-2002

Meeting Audio (.MP3 format - use right-mouse save-as to download)
Send me your JohnT stories!
My intention is to evolve this website into an on-line tribute to JohnT and his many years of service. If you have a favorite memory or personal story about John to share, please send it to

and I will try to incorporate it at this website.

- prepared by Rocky find a meeting in Massachusetts